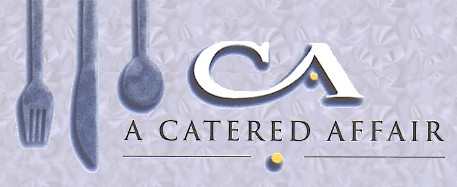 FINGER BUFFET MENU 2
Minimum 20 people
A selection of freshly cut sandwiches
Goujons of sesame battered chicken breast with a herb mayonnaise dip
Parcels of smoked salmon and cream cheese dressed with lemon juice and poppy seeds
A selection of freshly baked cocktail savouries to include:
Salmon

Ham and cheese

Mushroom
Savoury tartlets filled with Greenland prawns and dressed in a marie rose sauce
Pork chipolata sausages wrapped in bacon with a honey and grain mustard glaze
Skewered bits of French brie and green grapes
Freshly baked sausage rolls
Cocktail vol au vents with a variety of fillings
Spicy oriental appetisers with a mint yoghurt sauce


We can also provide orange juice and mineral water with glasses
* * * * *
These menus are examples only, and items can be changed with those on the main list, although the price may vary. The
price of all the menus includes delivery within the Chester area, paper plates and napkins. (China plates can be provided if preferred). VAT is excluded and is charged at the current rate.

Please telephone 01244 399992, e-mail or complete our on-line form for further information or to arrange a meeting.